Hollywood loves a wedding — the joy, the chaos, the readymade ending — but the focus is often the bride or groom. Comparatively little attention gets paid to the guest, and to that one summer, usually in your mid-20s, when seemingly all of your closest friends are getting married. With outfits, gifts and travel, it's a lot to manage — and pay for.
Before you start ranking your friends or make a list of excuses to dish out, here are a few tips to help you survive a summer of weddings.
Pick clothes strategically
Getting dressed up several times in the same season doesn't mean you have to buy a new outfit for every occasion. The key to saving big on formal attire is to get creative.
Invest in classic, versatile attire. Women should buy one or two good outfits and men, a well-fitted suit. Choose colors and styles that you can accessorize in many different ways and that are versatile enough for many formal occasions — besides weddings, there are dinners, graduations and even job interviews. When hunting for a new outfit, hit discount stores like Nordstrom Rack or Saks OFF 5th first. Men looking for good suits on a budget can look at new online companies like Combatant Gentlemen and Indochino. And don't forget thrift stores, the keepers of many an affordable gem.
Borrow from friends. If you're going to several weddings, you probably have a large circle of friends. Well, they are trying to make it work, too, so why not coordinate? You can exchange and share dresses, accessories and maybe even shoes throughout the season. Open the swap up to siblings and roommates; see if you can have something from their closet for a day.
Rent. For decades men have done this with tuxedos. Now women are in on it, too, and the options have gotten much better. Check out sites like Rent the Runway, where you can rent designer dresses for a fraction of the retail cost. Guys can rent suits or tuxes in person or at sites like The Black Tux, where prices may be lower and the fit a little better.
Purchase gifts early
Guests typically spend $51 to $100 per wedding gift, according to a 2015 survey by NerdWallet. That means that if you're attending multiple ceremonies, expenses can quickly snowball.
Procrastination is not your friend here. Jump on the registry as soon as it's out so you have a wider price range of items to choose from. You can also recruit friends or other guests to split the cost of a higher-priced item.
And if you can't afford what's on the registry, don't fret. Personalized items like monogrammed towels or pillowcases, gift cards or picture frames are good options. You can find lots of affordable items to personalize on Etsy.
Research travel options
If you have to fly, do your research as soon as you know you will attend. Play every known cheap-travel ticket in the book: Fly on weekdays, check airports both big and small, and hunt down deals by signing up for notifications from Kayak, Google Flight or SeatGuru.
Split the cost of your hotel rooms, car rentals or Airbnbs with other guests. Don't know anybody else at the wedding? You're probably not the only one. Ask around at the bridal shower or reach out to the host to see if anybody is looking to pool resources.
The "Summer of Weddings" is real, and it is perhaps the closest approximation of the mayhem and worry that comes when it's your turn as the bride or groom. But with a little bit of savvy, you can get through it — and enjoy it all.
© Copyright 2016 NerdWallet, Inc. All Rights Reserved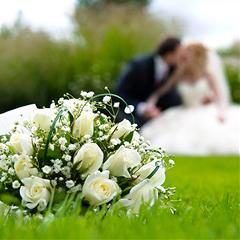 Related Article: 5 Financial Tips for Newlyweds