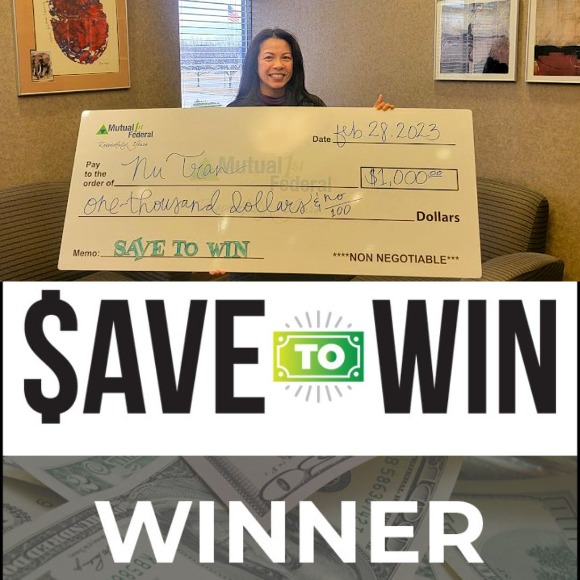 Congratulations to our member, Nu! She won the $1,000 cash prize in February!
---
Save to Win is a special certificate account that helps you build your savings while also giving you chances to win monthly cash prizes and up to $5,000 in quarterly prizes! Every time you save $25 in a Save to Win certificate, you get another chance to win – up to 10 chances every month. At the end of the certificate, all the money you deposited into the account is still yours, plus interest.

Save to Win Account Features:
12 month certificate that encourages you to make ongoing deposits with chances to win
APY is 1.96%*
Minimum opening balance of $25
No minimum or maximum deposits per month
Choose to continue participating in the program by rolling over the certificate after 12 months
Early withdrawal penalty of $25
Account holder must be 18 years or older
Free online and mobile banking with mobile deposit
Want to see all the chances you have to win? Check out the giveaway schedule! Visit the official Save to Win website for more information.
View the Mutual 1st Federal Save to Win Official Rules.